LIFETIME TENNIS ACADEMY OVERVIEW
Founded in 1995 LifeTime is regarded as one of Australia's leading coaching teams with a wealth of knowledge, experience & passion.
Directed by Gary Stickler & Graeme Brimblecombe our primary focus is giving players the tennis, personal skills, values & habits required to be successful, not just tennis but in life.
Our program has a dedicated focus on helping players achieve their tennis goals. Many of Australia's former leading players including Pat Rafter, John Millman, Jason Kubler and Naiktha Bains have progressed through the LifeTime coaching system.
Recognized as a Platinum Development Program by Tennis Australia and awarded Australian Tennis Development program of the year. We have a recognised expertise in working with tournament level junior and senior players, our team knows what it takes to get you to the next level.
ABOUT THE PROGRAM
Players are treated as individuals!
Directed by Graeme Brimblecombe and delivered by our leading performance coaching team, a weekly plan is created for players based on their goals and needs. Student-athletes and coaches communicate regularly and build relationships that lead to unprecedented success.
On court sessions are instructional, tactical based and created based on players game style. Players are expected to regularly compete in UTR and non-UTR events, from these events our coaching team will construct training plans for players to work on aspects of their game that are lacking and develop the areas of strength to become weapons.
Key areas of focus:
Technical Development

Tactical and Game Style Development

Mental Toughness

Footwork, conditioning, strength and injury prevention (conducted by fitness training professionals and overseen by leading sport science and physiotherapist)
Our goal is to create a competitive and challenging environment for players that develops ownership, accountability and passion.
PROGRAM PATHWAY
The Indooroopilly State High Tennis Excellence Program is aimed at players who wish to accelerate their tennis improvement while balancing educational commitments. Having a program at school allows players to put in the hours on court required to achieve their dreams.
For players wanting a career in tennis or to gain a scholarship at a leading US College.
Below is a ranking guide that players will be broken into relative to their year of birth.
Regional Program (Top 50 QLD or Top 100 AUS)
State Program (Top 25 QLD or Top 50 AUS)
National Program (Top 10 QLD or Top 30 AUS)
Program pathway levels and groupings are decided by LifeTime Tennis and based on current UTR rankings, playing experience and the goals and outcomes of players.
Program Session Descriptions
On Court Session

- 90 min sessions
Tactical based drilling, open court drills and individualised on court sessions that aim to give players all the skills they require.


Gym

- 60 min session
Conducted by a qualified professional with experience in tennis.

Conditioning

- 30 minutes
Aerobic and endurance training.
Speed - 30 minutes
A focus on movement | footwork speed and technique.
Core & Recovery - 30 min
Injury prevention and core stability work. We understand the importance of injury prevention and it is a key focus of our professional fitness trainers.
Workshop - 60 min
Weekly workshop will be given by leading speakers in mental toughness, nutrition, game play tactics, US College preparation and other important topics.
Player to Coach Ratio - 6 players to 1 coach
Program Price - $199.50 including GST per Week. Program will be direct debited fortnightly.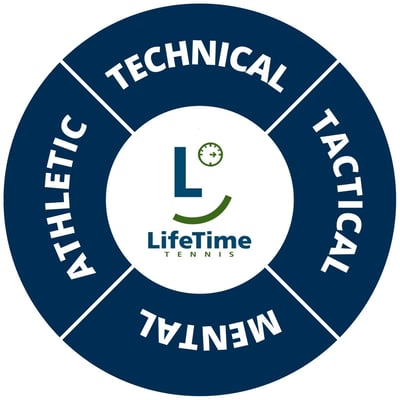 ENROLLMENT & EVALUATION PERIOD
Coaches familiarise themselves with a student-athlete's game as much as possible during the enrolment process and begin to create a plan and training structure for each student-athlete throughout their first few weeks on campus. During that period, student-athletes and coaches will work on the below:
A physical evaluation

Addressing anything technical or tactical that may need improvement

Understanding what works best for each individual and develop programs accordingly

Competitive match play

Progression and development from drills to competition
INDIVIDUAL, WEEKLY PLANS
Depending on a student-athlete's upcoming tournament schedule or previous week's play, coaches will create individual, weekly plans inclusive of in-house match play, drills and training, and performance elements like mental toughness and vision training. In-house tournaments (described below) are incorporated into weekly plans dependent on the student-athlete's overall tournament and travel schedule.
Weekly plans incorporate the following methods:
Establishing an objective and goal

Coaches increasing or decreasing intensity/volume based on pre-post competition

Situational sessions based on a student-athlete's upcoming opponent(s)

Coach/player meetings following the week to understand performance, next week's focus, and next-steps for improvement
COLLEGE RECRUITMENT
LifeTime has a partnership with Platform Sports Management team. A New Zealand based group who have helped many of LifeTime players secure US College scholarships. Amrit Rai is the owner of platform sports and we value his expertise and experience in this area. Our team works closely with Amrit and the players to ensure they have the best possible opportunity to progress through the US College pathway.
TOURNAMENT SCHEDULES & PROGRAM
Our director of tennis will develop a tournament schedule for players. This will be a recommended list of events for players that will ensure they are entering the correct events. The tournament schedule will be developed based on players goals, year level and educational stresses, current playing ranking and projected developmental progression.
UTR TOURNAMENTS
LifeTime will host or attend 2 UTR Tournament events throughout the term. UTR events are a great way for players to get their match numbers up and develop match toughness.
Draws based on UTR rating with an average of 16 players per draw

Compass Draws

Guaranteed 4 matches

College workshops offered during select events
ATHLETIC & PERSONAL DEVELOPMENT
Ignite Physical Performance is LifeTime's strength, conditioning and injury prevention specialists. Cody and his team conduct all of our off court group sessions and offer personal sessions for players wanting additional.
Cody is an ESSA Accredited Exercise Physiologist, a Level 2 ASCA Coach and he also has his Masters in Sports Coaching through the University of Queensland. He previously ran his own Exercise Physiology Business for 12 years from our Spring Hill clinic and is now expanding the practice to include a second location at Mt Gravatt.
Cody has worked closely with a team of physiotherapists for over a decade and thus has a strong understanding of injury pathology, rehabilitation and prevention.
HOW TO GET STARTED
Players who are interested joining the program or would like to request further information can submit their interest to admin@lifetimetennis.com.au
Graeme will arrange a one on one consultation with you to discuss the program and help you decide on the best option for your athlete.